During the summer months of 2011, the Earth Matters ECO Centre was offering valuable, accessible composting education to the community of Nelson.  We were  "on location" at the weekly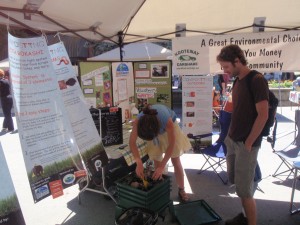 Wednesday Baker Street Markets and Saturday Cottonwood Park Farmer's Markets, and monthly Friday night Marketfests.  We had a booth where people could find out about how to start composting in their household or find out how to fix their existing compost system.
We also hosted various workshops:
Worm Composting Workshop:
OCTOBER 6th: Earth Matters is hosting a Indoor worm composting workshop and you're invited!  This workshop will provide you with all the information you need to get started as well as some tips and tricks for those who presently have a worm bin.   The Workshop will be at the Earth Matters ECO Centre at 563 Ward St.
Please call 250 352 2513 to preregister or to ask questions. Cost is $10.  For more info on Worm Composting click here.
Compost Bin Sales:
Earth Matters was also selling various composters through our Earth Matters ECO Centre to complement our composting education and to help fund our education program.